On June 30th 1859, the 'Great Blondin' walked along a tightrope suspended above the rapids of Niagara Falls, becoming the first man to walk across the Falls. His real name was Jean Francois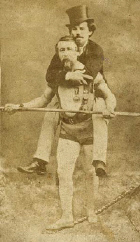 Gravelot and he was born in St. Omer, Pas de Calais in Northern France on 28th February 1824.
During his first crossing, a steamer, the Maid of the Mist, traveled below him, and Blondin lowered a wire and retrieved a bottle from its deck. He drank from the bottle—it was uncertain if it contained water or wine – and continued his walk.
During the summer of 1859, Blondin successfully completed eight additional crossings. His most difficult crossing occurred on August 14 when he carried his manager Harry Colcord on his back.
For the crossing, Blondin used a 335 metre long manila rope with an 8 centimetre diameter. The rope stretched from the current site of Prospect Park in Niagara Falls, New York to the current site of Oakes Garden in Niagara Falls, Ontario. He began on the American side and completed his crossing in 20 minutes, using a 40 pound, 9 metre long balancing pole.
During the summer of 1860, Blondin returned to Niagara for a second successful year of tightrope walking across the Niagara River for hundreds of thousands of sightseers. One of his acts included pushing a wheelbarrow along as he crossed. On September 8th 1860, he completed his final tightrope crossing of the Niagara River. Others followed in his absence but none more daring or famous than the 'Great Blondin'.