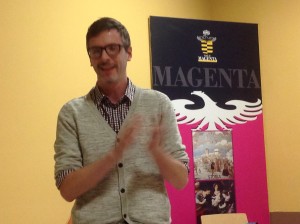 This month we are off  to America !
We have booked a virtual trip to Oregon with Peter Kinzig
Just think Oregon became the 33rd state of America in 1859, the same year that Gen. MacMahon and FM Gyulaj were fighting it out here in the Battle of Magenta.
Despite his German name Peter is American, born in Oregon, and after graduating from university he came to continue his studies in Italy where he has been for less than a year. After a period in Ferrara, he is now doing an internship, teaching at the Quasimodo High school in Magenta.
It was great of him to accept our invitation to tell us about his home state and I'm sure it will be a wonderful evening despite this change of plan. The evening will still be held in the EX SALA CONSILIARE. (nel cortile degli uffici comunali di Magenta – entrata Piazza Formenti)
Starting from the Oregon trail in the late 19th century, Peter took us through the beautiful Oregon landscape and showed us its biggest city Portland today. complete with weird inhabitants (and proud of it!). Loads of people came. Thanks to you all!!
This content is restricted to site members. If you are an existing user, please log in. New users may register below.