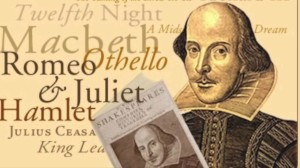 Friends, Romans, countrymen, lend me your ears!
In 2016 the world celebrates the 400th anniversary of the death of William Shakespeare and the English Club is no exception.
But how do you start preparing an evening about Shakespeare? He wrote 38 plays and 154 sonnets: that makes about 884,647 words and 118,406 lines (no, I didn't count them myself… )
Well we're not doing all of them, of course.
Did you know that one of the plays is thought to bring bad luck?
Do you know which is Shakespeare's longest play?
Test your knowledge, learn more and … if you're brave enough, try your hand at a bit of Shakespearean acting.
Farewell my friends! We will meet again at 9 pm on Wednesday 16th November in Casa Giacobbe (Sala del Pozzo)