We have updated the calendar for the 2014 – 2015 Events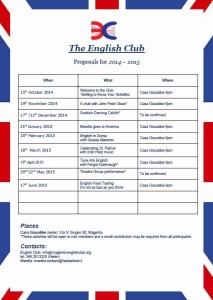 WHERE: usually Casa Giacobbe (sede): Via IV Giugno 80, Magenta, at 9:00 pm but …. some more events may be held in larger places !
We'll keep you informed: STAY TUNED for the details
Some activities will be open to non members and a small contribution may be required from all participants.
tel: 348.2613328 (Helen)
Marella: marella.corbani@fastwebnet.it